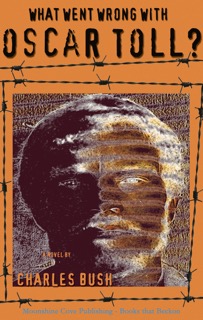 WHAT WENT WRONG WITH OSCAR TOLL?
Best Legal Thriller, 2015 National Indie Excellence Book Awards
Oscar Toll has been convicted of murder and sentenced to death.   Eric Lawson has been assigned his appeal and habeas corpus.   Despite many obstacles---a key witness is killed, Oscar's family won't talk---Eric manages to turn tiny shreds of evidence into a startling new narrative of Oscar's life.   But Eric's professional success isn't matched in his personal life.  His marriage to his wife Pilar is in trouble. 
"I loved this book...Charles Bush is a gifted writer." ---James Sheehan, author of The Lawyer's Lawyer
"Charles Bush has not only written an engaging novel, he has performed a public service.   It's quite an achievement." ---Michael Nava, author of the Henry Rios novels.
"An engrossing, well-written tale that is hard to put down from the first page.   Bush has created realistic and compelling characters, who make you worry about their fate long after you put the book down." ---Gabriel Boutros, author of The Guilty